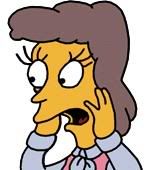 David Aaranovitch is a rare glimmer of
sanity
in the latest paedophile hysteria to hit the scandal sheets:
The Education Secretary is under threat and according to her Labour colleague, the ever-helpful Ian Gibson MP, has only till the middle of the week (ie, tomorrow) to show that she's in full command of the school paedophile crisis that has so suddenly engulfed her. The BBC news spoke yesterday morning of a "weekend of revelations" concerning dodgy teachers, and then seemed only to be able to find one new one, and a decent Sunday broadsheet ran a headline about how Ruth Kelly had known about the paedo problem since last year — only to reveal in the text that by "last year" what was meant was the December just gone.
Polly Toynbee
points out
that Ministers should not usually be making such decisions anyway:
This should be the cue for a long-overdue review of ministerial responsibility: Major did start one that Blair then scrapped. Ancient custom sends thousands of letters a day out in ministers' names averring what "the minister says" on cases he/she could not possibly see. Ministers should not make such decisions. In this example, before people are put on List 99 and banned from working with children, an education minister has to decide borderline cases; but he/she has no more clue than you or I. It needs a professional panel to examine each one. Ditto on the sex offenders' register, when deciding the gravity of an "offender" who at 17 had sex with his 15-year-old girlfriend many years ago. (Chris Woodhead, yesterday making hostile comments, could give expert evidence on teachers' relationships with teenagers). What all this reveals is the need now for a firm rule across all departments that ministers no longer do individual cases. They should do policy - that's their job - and oversee others, such as ombudsmen, special panels and judges, to adjudicate cases fairly.