My friend and colleague
Dr. Anne-Marie Oostveen
writes from Amsterdam with some interesting news:
---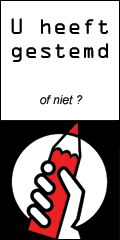 Just a quick update on the Dutch e-voting situation. The last couple of days have been quite exciting in the Netherlands with regards to the use of voting computers. As you all might know, the foundation 'Wijvertrouwenstemcomputersniet' initiated a serious debate about the risks associated with the use of the voting machines by approximately 98% of the Dutch population. It wasn't until the foundation showed with a well-documented hack how easy it was to commit fraud that Mr. Atzo Nicolai, the Dutch Minister for Government Reform and Kingdom Relations, decided in December 2006 to set up two committees to investigate the electoral process.
The first committee was led by ex-Member of Parliament L. Hermans and looked back to the early 60s to examine the decisions made surrounding the introduction of voting computers. The second advisory committee was chaired by Minister of State Mr. F. Korthals Altes. The task of this committee was to review the current electoral process in the Netherlands and make proposals to improve or alter it. One point the committee considered concerned the risks of using electronic voting versus paper ballots. The committee issued its 'Voting with Confidence' advisory report last Thursday 27 September 2007 in The Hague. Main conclusions: the ballot paper is preferable to electronic voting since it makes a recount possible and it is more transparent. Internet voting should be limited to people living abroad, citizens resident in the Netherlands will have to cast their ballots in polling stations, making vote selling and coercion very difficult, if not impossible.
The deputy Minister for Interior A. Bijleveld said in a first response that she would accept the committee's advice, and ban electronic voting. She announced that the 'Regulation for approval of voting machines 1997' will be withdrawn forthwith. Elections in the Netherlands will be held using paper ballots and red pencil for a while. After that, citizens will probably be using 'vote printers' and optical scan counting computers.
But this was not all! The icing on the cake came on yesterday 1 October 2007 when a Dutch judge declared that the use of the Nedap e-voting machines in recent Dutch elections has been unlawful. The District Court of Alkmaar decertified all Nedap voting computers currently in use in The Netherlands. The court order is a result of an administrative law procedure started by 'We do not trust voting computers' in March 2007.
More information:
http://www.wijvertrouwenstemcomputersniet.nl/English
Articles in English:
There will be an English translation of the 'Voting with Confidence' advisory report in a couple of weeks time.