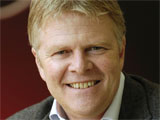 Glad to hear that Virgin Media's new CEO Neil Berkett is clear where he
stands
on the heated
net neutrality
debate (
via ORG
), telling the Royal Television Society magazine about plans to put BBC iPlayer traffic in a "bus lane" and that "this net neutrality thing is a load of bollocks."
UK regulator OFCOM has already told us they will be leaving the market to decide this issue. Chairman Lord Currie (in post until next August)
said
in 2006:
"It's as well it hasn't come over here, as it's a somewhat confused debate… [I] think it's a thoroughly bad idea not to charge for quality of service.

"I do see competition law as the answer to many of the issues."
It
seems
that iPlayer will be carrying more than just BBC programming in the near future.