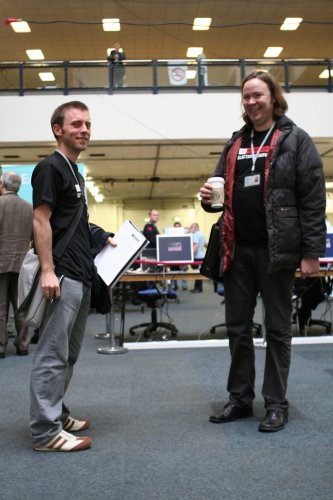 After over 15 hours of electronic ballot counting, the Greater London Assembly election results for the south and west London constituencies were declared last night at the Olympia count centre. After another 30 minutes of checking, the overall
results
for the London-wide assembly members and the Mayor were announced at City Hall, with Conservative Boris Johnson beating former mayor Ken Livingstone by a 6% margin.
A team of dedicated
Open Rights Group
volunteers were at the three count centres throughout the day to observe proceedings, accredited by the
Electoral Commission
under procedures introduced through the Electoral Administration Act 2006. We hope to publish a report soon on the conduct of the polls and the count. But for now, thanks to everyone who took part — especially organiser Becky Hogge, and Alex Tingle for this photo!