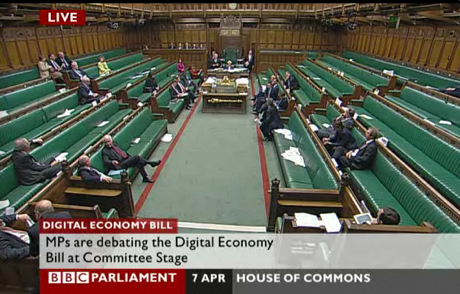 After
wash-up
and
ping-pong
, the
Digital Economy Act 2010
has received royal assent and become UK law. For the Liberal Democrats, Lord Clement-Jones
told
the House of Lords:
There is no doubt that many parts of the Bill were greatly improved in the two and a half months that the Bill spent in this House, particularly in expressly stating that subscribers are presumed innocent until proof is provided otherwise.

Subsequent to the Bill's passage here, however, the process has been totally unsatisfactory. Second Reading could easily have been held three weeks earlier. The Bill left this House on 15 March and Second Reading could have taken place well before 6 April, when it actually took place in the Commons. Some Committee days on crucial areas such as file-sharing, website blocking and orphan works could have been allocated. Instead of that, we have had the unedifying prospect of a wash-up stitch-up between the Conservative and Labour Benches on many elements of the Bill. Allied to the lack of time was the Government's unwillingness in some cases to consider amendments or to give assurances that would have delivered a sensible, consensus solution. It is no wonder that so many internet users, Back-Bench MPs and now the Front Bench of my party are firmly of the view that the Bill has not received adequate debate and should not proceed further.
Index on Censorship
has a
round-up
of the debate, with this comment from me:
The House of Commons may have rushed through the Digital Economy Act with minimal scrutiny, but I think public protest over its far-ranging provisions is just warming up. Most of the UK's 50m Internet users are only just hearing about this threat to their ability to work, learn and express themselves online.

The Internet's democratic potential will be damaged by powers in the Act for users to be disconnected and websites to be blocked. But in the meantime, the tens of thousands of citizens who complained about the lack of debate to their MPs will be thinking about next month's general election. Voters have an ideal opportunity to favour candidates that support freedom of expression and promise to block the secondary legislation that is still needed in the next Parliament to bring many of the Act's provisions into force.